The Breakdown- B.A Paris Review
That night....
The guilt....
The calls....
The murder.....
Guys!!!! I am so excited to be writing a review on The Breakdown by B.A Paris. First of all, I wasn't even going to read this book but I kept having friends on Instagram telling me that I should pick it up. Seeing that they were enjoying it was giving me serious FOMO. So I downloaded the sample on my kindle and when the I was done reading the sample, it was too late to make a run to the bookstore so I purchased the full E-Book version.
Rating: 5/5
I have a Starbucks cup in my hand and I'm still thinking what just happened?
How did I not see that coming?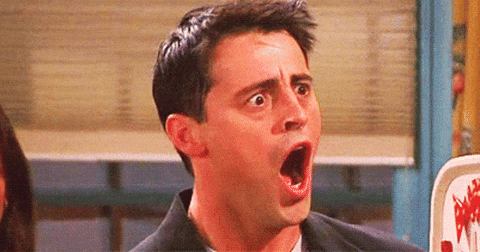 Can we talk about how this gif of Joey is all of us after reading that huge twist?
This was me page after page once the twist was revealed.
The moment I read Matthew tell Cass : "Do not dare drive through the shortcut." I was thinking omg she's going to take that road and something bad is going to happen. I was hooked and I think that was just a page into the book.
Honestly this book was so great. If I could give it a higher score I would.
B.A Paris,I am a new fan of your writing. This book is very intricate. There is so much going on that you are so wrapped up in it and when the book eventually begins to unravel your mind is thinking OMG! Totally mind-blowing!.. I liked that it had the perfect amount of suspense , the mood is dark but not overly done. The characters are also all interesting and at no moment was I bored reading this book in fact it got to a point where I was so sleepy but I fought it back because I was so into the book. Of course I am now paying for it but it's okay it was worth it!!
When I was reading the first chapters I already had me theories of how it would end. I was wrong. Honestly, I did get to a point where I was overwhelmed because I felt that the book wasn't making progress but that was because I was trying to finish the book in 1 day. So that was entirely me. Please if you need a new read do yourself a favor and pick this book up.
You will not regret it.!
Have you read it?
What did you think?
-Cristal Belen.